Abstract: Whether an international enterprise enters the Chinese mainland market from Hong Kong or Chinese mainland an enterprise enters the international market from Hong Kong, their first choice is to come to Hong Kong company. What are the advantages of opening a company in Hong Kong? This article will introduce the benefits of opening a company in Hong Kong from the perspective of taxation, company type, industry, etc.!
According to the "2022 Annual Survey of Companies Resident in Hong Kong with Parent Companies Outside Hong Kong" published by the Census and Statistics Department of Hong Kong on the 24th, there are 1411 companies with Hong Kong regional headquarters in Hong Kong, and there are more than 5,000 Hong Kong regional offices, reflecting the business value of Hong Kong, why do so many companies open companies in Hong Kong?
Tax incentives
Hong Kong's tax rate is relatively low, there are fewer types of tax, and the profits generated by the company's operations are subject to a relatively low income tax rate, with a profits tax rate of 8.25% for the first HK$2 million, and 16.5% for subsequent assessable profits, and only after the actual profit needs to pay the profit, and even the company's loss can be carried forward to the next year for deduction.
In addition, Hong Kong does not tax overseas income and capital gains, and many international enterprises will take advantage of the cooperation agreements signed between Hong Kong and other countries to achieve reasonable tax avoidance. This makes Hong Kong an ideal choice for international trade and multinational companies.
Shell companies are allowed
Hong Kong allows the existence of shell companies, shell companies refer to companies with only a small or no actual business activities, shell companies can be used for various business activities, including capital operation, asset management, etc., can make the company's resources and operations more flexible, while non-operating companies can directly file tax returns to zero, so the opening cost is extremely low.
Unlimited business scope
There are basically no restrictions on the business field of setting up a company in Hong Kong, and there is no need to review the type of business, goods or services when applying for a company, which means that the company can operate almost any field of business and can flexibly adjust the business scope according to its needs.
Low registered capital requirements
There is no limit on the amount of registered capital of a company to open a company in Hong Kong, and it is common to set up a capital of HK$10,000, and the funds do not need to be fixed in the company account for a long time, making it easier for start-ups and small businesses to set up a company.
Superior financial system
In the 33rd edition of the Global Financial Centres Index, Hong Kong maintained its fourth overall ranking in the world, fully reflecting Hong Kong's strength and advantages as a leading global financial centre, with a highly developed and stable financial system and a good reputation, allowing Hong Kong-incorporated companies to freely conduct remittances and transactions at home and abroad, facilitating business operations and international trade.
Market springboard
Hong Kong is a cosmopolitan city with extensive international contacts and networks, which makes it easier for companies to expand into international markets.
Whether international enterprises enter the Chinese mainland market from Hong Kong or Chinese mainland enterprises enter the international market from Hong Kong, Hong Kong is an important springboard through which more close economic ties and convenient trading conditions can be created.
Independent legal system
Hong Kong has an independent legal system, a stable rule of law environment, and enjoys good business confidence. Companies operating in Hong Kong can rely on sound legal protection to safeguard their rights and legal status. If Hong Kong has strict rules on intellectual property rights, you can apply for design, patent, copyright and intellectual property protection with absolute peace of mind.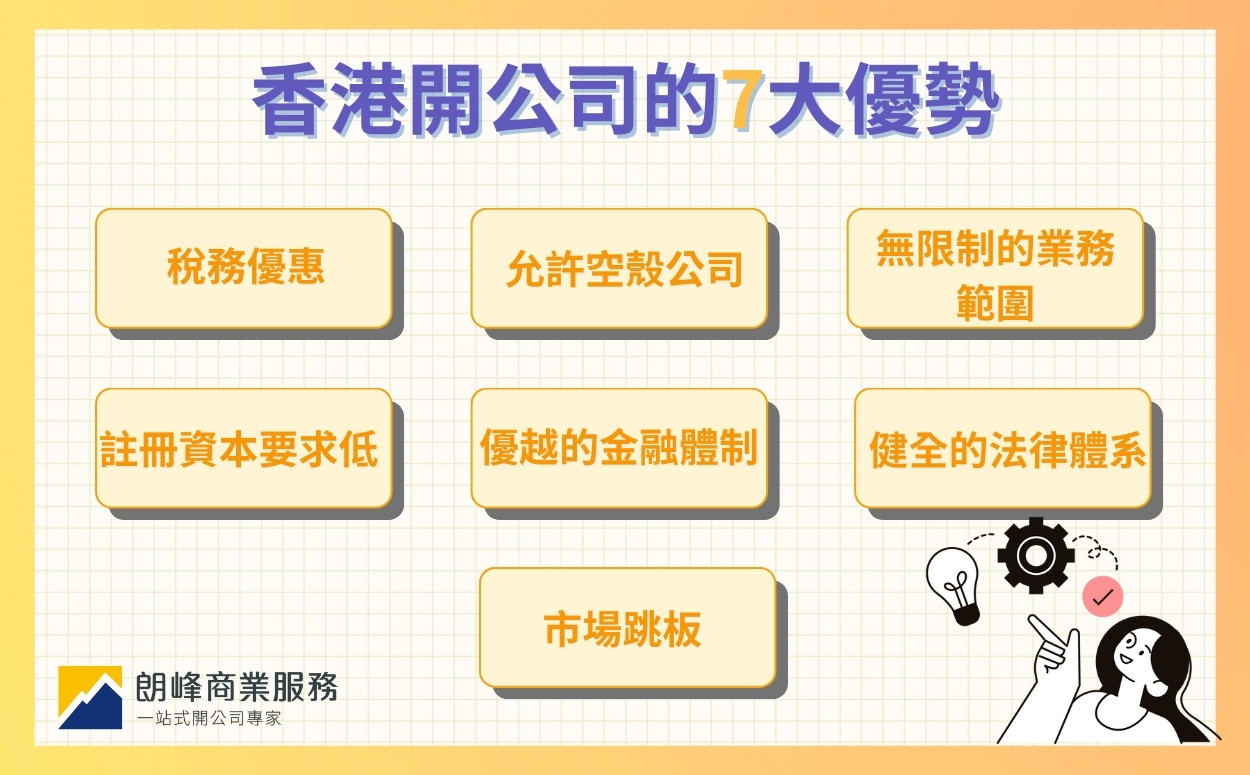 summary
The advantages of setting up a company in Hong Kong include low tax rates, high degree of business freedom, excellent financial system, and springboard opportunities, which make Hong Kong an ideal location for many companies to set up and expand their business. Click on the selection type of Hong Kong company to learn more!
If you have any questions about Hong Kong company registration, please feel free to contact the Langfeng Business Consultant Team, we provide one-stop business advisory services, from Hong Kong company registration, company account opening and secretarial services to help you start your business blueprint!